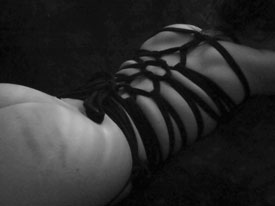 Photo courtesy of Ava Grace
Welcome to e[lust] – The only place where the smartest and hottest sex bloggers are featured under one roof every month. Whether you're looking for sex journalism, erotic writing, relationship advice or kinky discussions it'll be here at e[lust]. Want to be included in e[lust] #40? Start with the newly updated rules, come back September 1st to submit something and subscribe to the RSS feed for updates!

~ Top 3 ~
Never Pinch a Sadist: 50 Shades of Plaid – If you don't know kink, don't feel pressured into it. If you wonder what it is about, join Fetlife and find local event to teach you about it.Collars & closure & owning myself – there is triumph in realizing that your paths are diverging, repacking your shit, and moving on with dignity and respect.The Quarry – We agreed to meet up on the weekend and go out to the quarry. It was an old, flooded quarry. I didn't know it, but the queers had taken it over.

~ Featured Post (Picked by Lilly) ~

~ e[lust] Editress ~
"I can't orgasm without a vibrator" So What? – Embrace it. Bring it in to your partnered sex life. Be happy that you can achieve orgasm whatever way that works for you.
All blogs that have a submission in this edition must re-post this digest from tip-to-toe on their blogs within 7 days. Re-posting the photo is optional and the use of the "read more…" tag is allowable after this point. Thank you, and enjoy!

Erotic Writing
A Guest for DinnerA Beautiful NeedA Purring MachineA Hard Man is Good to FindChlorine KissesIn a different worldI Crave You!Lolita Twenty-Twelve, Part FourMojo BackMy 69th OrgasmOwned Part 4Sensual room serviceSummertimeTease MeTravellingThe Space BetweenThe TextThe Wicked Wench of Wupert StweetThe Desk of PowerUse MeWhat I'm thinking about when I'm…When Frederick Met Camille

Thoughts & Advice on Sex & Relationships
Living with an Alpha SubMake Her CumRestlessSwinging and safe sexTalking with the Lights OffThe Promiscuous BisexualWhy Do I Have More Respect For Men Than MRAs?What not to do for anal sexWants, Needs & PolyWifi Sex?

Kink & Fetish
A Boot SceneConsent as TortureMores and BehaviorPursuit of SquirtingPlaying With LightningSubmissive men: A celebration of beautystrapping on…my first timeSubmission for a Femdom Facesitting FilmSteepedrethinking warmup